Reasons to use PointofData's Active Information Platform
TM
Connect incompatible systems, providing seamless access to information
It can be a real headache to integrate incompatible systems, such as ones inherited from other organizations through consolidation or acquisition. Using the distributed processing capabilities of the Active Information Platform, however, you can interconnect widely divergent systems, centralizing management and reporting. Instead of altering existing systems and causing downtime, the Active Information Platform allows you to bridge different systems without affecting core operations.
Store and retrieve any data
The Active Information Platform lets you store any kind of information from any source, then use any number of tags, keywords, symbols or references to later find that information. The Active Information Platform doesn't force you to use rigidly defined rules or structures; you decide how you want to handle your data. The Active Information Platform can store SQL database rows, documents, XML, media files, network logs and just about any type of file you specify. It also stores real-time information by reference or through data collection, and even environmental data from sensors.
Keep a record of events and changes
The Active Information Platform is a "temporally aware" information system. Instead of throwing away data when it gets changed, you can store new versions, providing not only audit trail capability but giving context to information over time. As an example, you can set the Active Information Platform to keep track of changes to an SQL table, then search the data in order to see what rows contain the information you're looking for, if that information changed, who changed it and when it changed.
Meet new business requirements with unprecedented ease and financial savings
Instead of requiring existing database systems to be re-engineered to fit, the Active Information Platform gives you the ability to preserve what exists, while opening new horizons in expansion and adaptability when responding to new business requirements. By eliminating the need to alter existing systems, the Active Information Platform significantly reduces the costs associated with creating new applications for existing databases.
Discover hidden information
Where SQL lets you tie tables together through relations, the Active Information Platform lets you associate any type of information through the use of connecting symbols. Even if information doesn't appear to be directly related, the Active Information Platform makes it possible to find interlocking sets of information based on common or connecting symbols and relationships. Relationships can be as simple as common keywords between sets of information, or as complex as multiple, parallel semantic networks combined with goal-seeking. Unlike traditional systems, the Active Information Platform's nodes continually re-examine existing data and synthesize new information according to rules and patterns, providing new ways for you to find and use existing data.
Build sophisticated custom applications
The Active Information Platform is completely programmable, with an industrial-strength, self-contained virtual machine designed for efficient program execution across platforms. Interfaces to popular programming languages such as C/C++ and Java are available as well. The Active Information Platform gives you the freedom to create applications based on PointofData's innovative information storage, retrieval and distributed processing foundation, then connect those applications to existing systems using a variety of methods.
Enhance your Service Oriented Architecture with concurrent, distributed processing
The Active Information Platform is designed from the ground up for distributed processing with an integrated messaging backbone, and the ability to distribute processing across multiple systems. Using its distributed core, you can build massive databases that respond rapidly to requests. The Active Information Platform is resource efficient as well, operating on platforms as diverse as embedded processors to mainframes. Distributed processing is conducive to distributed security, allowing you to store sensitive data in tightly-controlled, yet accessible collections. Active Information Platform nodes are independent entities that respond to requests and events based on rules, and events can even occur without the active participation of a user or application.
Achieve Simplicity
The Active Information Platform addresses your most difficult data management problems. This single product is amazingly streamlined compared to the alternative-- a combination of enterprise software products from various vendors. The Active Information Platform eliminates layers of complexity and redundancy, as the following diagram shows.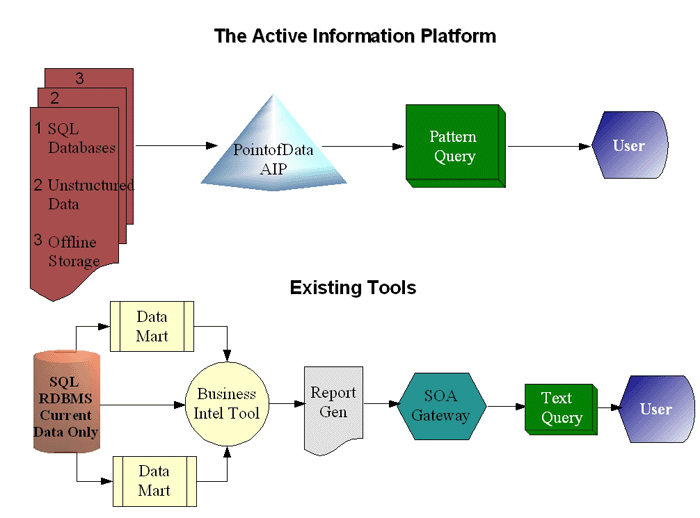 Request a demonstration
Please
contact us
to arrange a custom demonstration. The Active Information Platform is flexible, so demonstrations can be tailored to your specific, business needs.